Home
Welcome to The Pinnacle Charter Middle School!
At Pinnacle Charter Middle School, students learn and gain experience through real-world application, STEM and Core Curriculum while obtaining skills needed for high school and post-secondary opportunities. We are an AVID school and implement the college and career ready program school-wide. Pinnacle Middle School students participate in technology, robotics, career planning, numerous sports, clubs and visual and performing arts to outline a well-rounded education and a pathway to a balanced successful future. Our students can change the world because the focused foundation starts here!
FRIDAY UPDATES 10/13/23
Here are a few announcements for the upcoming week: 
1. Check IC for your Child's Academic Progress:  Each content class posts grades each week so please log into Infinite Campus and check your child's progress.  There are two grades minimum assigned each week by content teachers.  There are 3 grades minimum in AVID Advisory: The AVID Binder, Academic Goal Setting and Focused Note Friday. For the AVID Binder, please check your child's 2--2.5" AVID binder this weekend.  There should be 7 colored tabs and labeled with periods 1 through 7 and the subject.  The student planner can also be clipped into the binder for safe keeping.  This check helps your child remain organized and successful.  We have extra planners for sale for $5.  Please have your child visit the middle school office if they need a replacement during their WolfPack.  Academic Goal Setting began as well.  Focused Note Friday are a review of notes taken for the week. Your child's job is to underline, highlight and summarize their notes for credit.  Thank you for your support! 
2.  School Store:  Children who receive a Pack Award from teachers and staff for upholding our PBIS values (Respect, Responsibility and Relationship-Building) will be able to purchase items from our mobile school store during WolfPack this week!  They can put their Pack Awards in our monthly drawing for big prizes too!  This is a new feature to bring joy to our students for doing the right thing and being great students at Pinnacle!  The prizes are awesome and student interest driven!
3. School IDs: All students in grades 6-8 were issued a student identification card (ID) along with a Pinnacle lanyard and ID protector sleeve this week.  Students must wear their ID every day, all day.  This is for the safety of our school.  If an ID or lanyard is lost, there is a $5 replacement fee for the ID and the lanyard.  The first ID and lanyard is free. If a student forgets their ID badge, we will have them get a temporary ID sticker for the day or print a new one for them if it truly is lost.  Thank you for your support in reminding your child to wear their ID each day, all day.  They are doing a great job of adhering to this important safety measure!  Please have your child clip their ID into their AVID binder at the end of 7th period so it has less of an opportunity to be lost.  Thank you!
4.  Picture Retake Day: Middle School picture retake day was today.  Student IDs from this session will be delivered next week. If your child took their pictures already, there is still time to order photos. Families can now view and order their student portraits online on mylifetouch.com using their student ID number.  Many students wanted a retake photo without purchasing a package but we only allot one free ID picture.  If you desire a different picture or have concerns, please reach out to LifeTouch directly at 303-565-5200.  
5. Middle School Sports:  We offer the following middle school sports: Football, Boys and Girls Cross Country, Volleyball, Boys and Girls Soccer, Boys and Girls Basketball, Cheerleading, and Track and Field. Weightlifting and eSports are offered at the club level (eSports TBD).  Schedules are linked here. The 2023-2024 High School and Middle School Athletic Registration is linked here.  
All games and practices (and updates) are linked here.
6.  Trunk or Treat - October 25th 4:30pm-6:30pm: We are excited to announce that our Parents in Action will be holding Trunk or Treat again this year along with the awesome help of HS Student Council! It will be on Wednesday, October 25th from 4:30PM-6:30PM in the K8 Parking lot! If you are interested in participating please fill out the Trunk or Treat Participation Form.  There will be one winner from the community and one from the staff with the spookiest/most creative trunk!
Here are some more details:
Each participating trunk will get bags of candy to hand out from all the donations (we have A LOT this year!)
Food for sale
Winners- Target gift card!
Officer Bob, Federal Heights Police & Fire Department will also be present at this event
Tons of candy donations!  See picture of our Parents in Action below!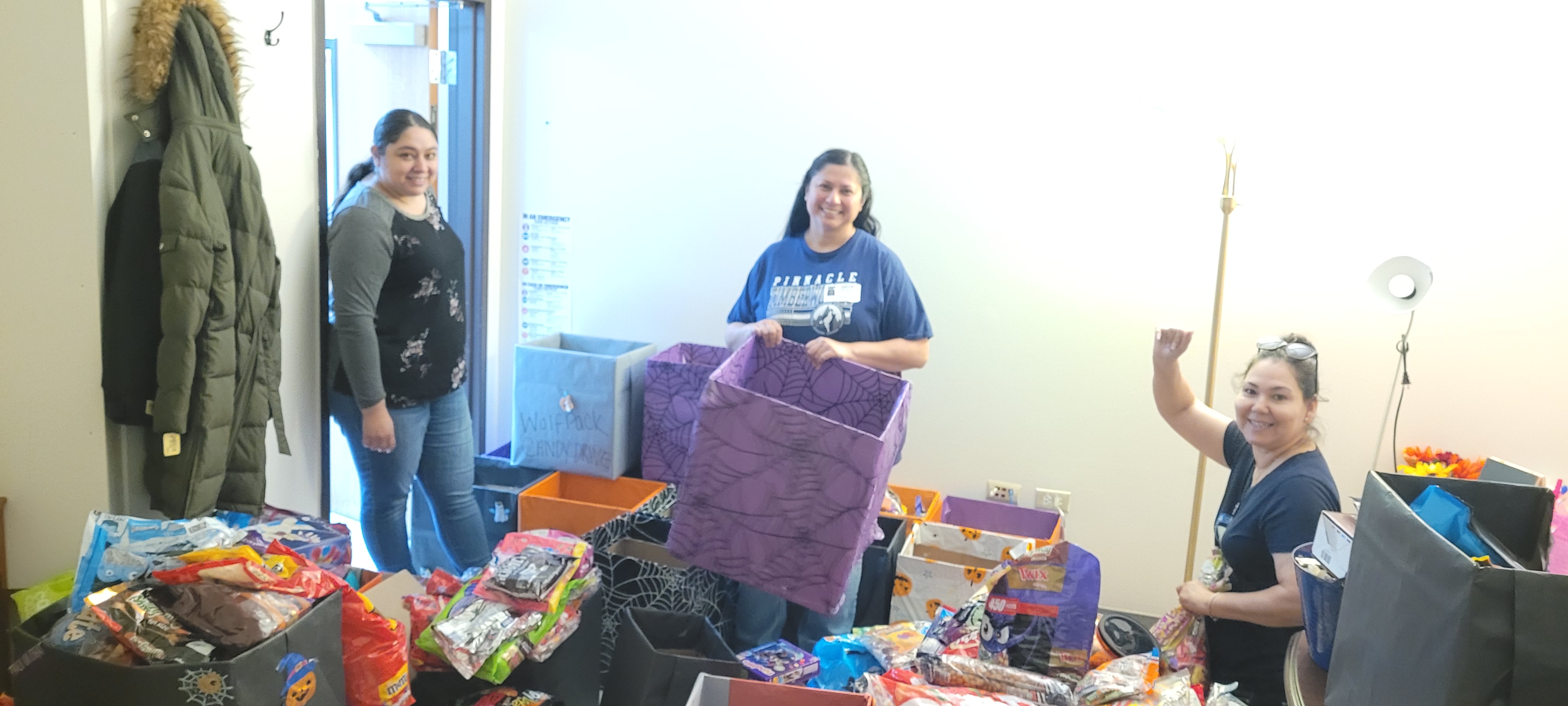 7.  Attendance Challenge for October:  1) Do not miss more than one day (unexcused).  2) Show up on time! Receive a cupcake at the Trunk or Treat event!  Also, Ms. Draper has some extra special awards to earn during school!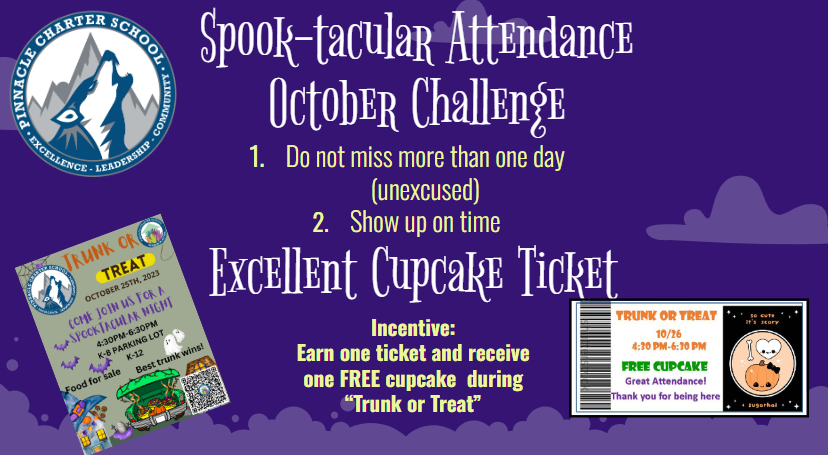 8. Florida Educational Trip:  Explore the Florida wildlife and have a trip of a lifetime this summer June 9th, 2024 through June 13th, 2024.  Register with WorldStrides using trip ID#208067  Please email Sean Damon at [email protected] for more information.  Payment plans, financial assistance and fundraising are available! The first fundraiser are for Butter Braid Orders  - Submit here!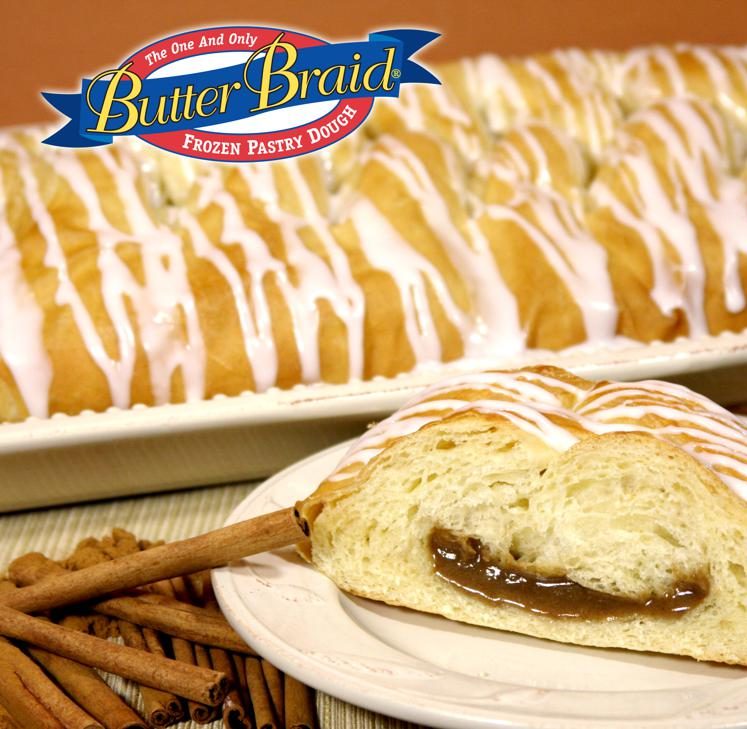 9. Conferences - Save the Date!  Conferences are October 18th from 8am-8pm (with a break for lunch from 11-12 and dinner 3-4pm so no drop ins just during these two times) and October 19th 8am-12pm by drop in. No appointment needed.  Located in the K-8 Cafeteria. 
Come shop for unique holiday gifts for you and your family!
Parents are encouraged to join the Parents in Action Team to make a difference at Pinnacle K-12.